'Ecosystem disruptor' NC pitcher with 20 wins, 200K wins wins 10th Choi Dong-won Award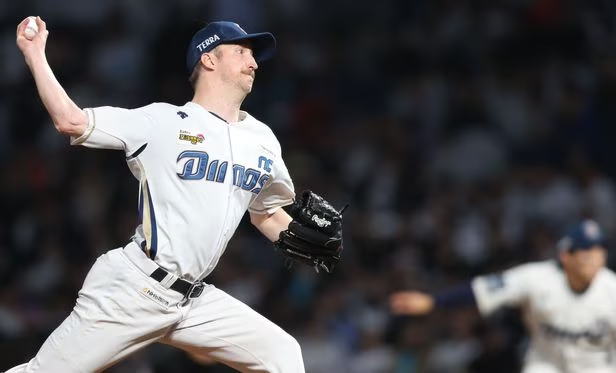 After becoming just the fifth player in Korean Baseball Organization (KBO) history to win 20 games and strike out 200 batters in a season this season, professional baseball's NC right-hander Eric Peddy (30-USA) has been named the winner of the 10th BNK Busan Bank Choi Dong-won Award. The Choi Dong-won Award, given to the best pitcher of the year, has been presented since 2014 in honor of the late legendary KBO pitcher Choi Dong-won.
The Choi Dong-won Memorial Project announced on Saturday that it has selected Pedi as the winner of the 10th Choi Dong-won Award, saying, "Pedi, who ranked first in the three categories of wins, ERA, and strikeouts, beat out a strong field of candidates." The Choi Dong-won Award is worth 20 million won, and Pedi is the first NC pitcher to win the award.
"Pitchers who performed the best this season, including Pedi, were nominated for the award," said Kang Jin-soo, secretary general of the Memorial Business Association. "We considered not only individual performance, but also team contribution, professionalism and fair play. Pedi's overwhelming performance in all categories was the final choice of the (nine) judges."
Pedi pitched six shutout innings against the Changwon Hanwha on April 10, leading the team to a 2-0 victory. His performance on the mound earned him his 20th win of the season (6-0), and he also struck out six batters to surpass 200 for the season (204).
Prior to Pedi, the only other players to achieve 20 wins and 200 strikeouts in a season were Jang Myung-bu in 1983 (30 wins and 220 strikeouts), Choi Dong-won in 1984 (27 wins and 223 strikeouts), Kim Si-jin in 1985 (25 wins and 201 strikeouts), 온라인카지노 and Sun Dong-yeol in 1986 (24 wins and 214 strikeouts). These records were set in the early days of the Korean Baseball Organization, when the division of labor between pitchers was not established and the aces of each team played numerous games, both starting and relieving. Peddy reached the milestone 37 years after Sun Dong Fen, and the first pitcher of the 21st century to reach both 20 wins and 200 strikeouts.
Pedi, who played a total of six seasons in the Major League Baseball (MLB) until last year, leads the league in wins, ERA (2.06), and strikeouts. He is also a strong candidate to win the pitcher's triple crown, which has only been accomplished by three pitchers since Seon Dong-yeol (1986, 1989, 1990, 1991), Ryu Hyun-jin (2006), and Yoon Seok-min (2011). Pedi, who has been called an "ecosystem disruptor," is scheduled to make his final appearance of the regular season on the 16th against the Gwangju KIA. NC has already confirmed its 'fall baseball' schedule.
Pedi said, "I am honored to receive the Choi Dong-won Award. It means a lot to me to be able to stand shoulder to shoulder with the previous winners," he said, "and I'm even happier to be the first NC player to win the award." "I had a great season because I had a lot of support around me," he continued, "My family and girlfriend Jordan traveled to Korea and stood by my side. I'm also thankful for NC. The club took great care to make me feel comfortable playing baseball."
The Choi Dong-won Award ceremony will be held at the BNK Busan Bank Headquarters in Munhyeon-dong, Nam-gu, Busan on May 17.